July 15, 2020
Insurance Agency Marketing Tips and Guidelines for Growth
11 min read
Topic: Blog Growth Agent Insight Insurance Marketing Insurance Agency Management Grow an Agency
When I ask the average insurance agency owner how much they spend on advertising and marketing I usually get a blank look. Sometimes it's because they have no idea – they're spending money, but they just don't know how much. Other times, it's because they aren't spending any.
And when I ask what's an appropriate amount to spend on marketing activities to grow your insurance business, I usually hear that it's something like 5%. I think that number must have been in a book somewhere because I hear it so often!
My agency has been in the Best Practices list several different times. In some cases, it was in the Top 25% Fastest-Growing list and other times in the 25% Most Profitable list. But we were never in both lists at the same time!

It costs a lot of money to grow and that reduces profits – or the owner's income. But if you want to grow an insurance agency you must be prepared to invest in it.
How Much Should You Spend on Marketing?
So, how much should you spend?
Each case is different, so I can't answer this for you –but I can tell you 5% ain't gonna cut it! I would suggest that you consider reinvesting ALL of the profit that you make from whatever growth you achieve until you get as big as you ever want to be.
I know that sounds like a lot, but I put my money where my mouth is. We are growing at a 50% annual rate and investing all of the profit growth back into the business. Because that's what it takes.
If you want to grow slower, invest less. But just remember – it's an INVESTMENT, not an expense – you are going to get a return if you invest wisely.
You Need a Plan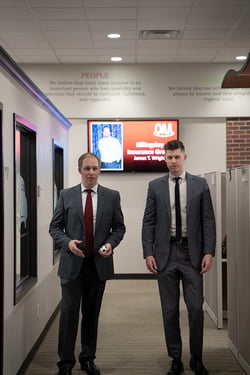 When I recently visited one of our insurance agencies to get better acquainted with their operations, I asked about their marketing program.
The owner told me, "We're just order takers!" He elaborated on the market they're in and said that they just write the business that comes to them.
This is a very common strategy among many independent insurance agents, especially in auto insurance sales. This doesn't mean it's a good insurance marketing strategy.
The world's greatest musicians can play riffs on the basics of music and make the result sound inspired. Superstar athletes obviously can do the same. The key, I think, is mastery of the basics. Be wary of new trendy insurance marketing ideas. If you master the basics then you'll see marketing success.
Without mastery of the basics though, does just letting what happens, happen, make sense as a marketing and agency growth strategy? I don't think so.
And the statistics bear me out. We have helped create hundreds of independent agencies. When I compare the results of those who strategized and were intentional in their marketing, as opposed to those whose strategy was to be an order taker, the results are about 3 to 1.
On average, agencies with intentional marketing efforts outgrew the "order takers" by 300 percent over the same period.
Genius, prodigy or superstar athletes can take what comes and make gold out of it. The rest of us, experience and data suggest, need a plan!
Marketing for Insurance Agencies is Easier Now Than Ever
Marketing to potential customers is easier than ever, thanks to the internet.
About 52% of insurance shoppers in 2017 headed online to do research before buying, and two-thirds of them are still buying from a local agent.
So, the good news is that most people want to buy from agents. And the cost of communication is cheaper all the time.
It's Not About Ads, It's About Relationship Building
Just remember: Marketing is not advertising. If it were, independent agencies would struggle to compete with the massive ad budgets that the largest national insurance industry players deploy. Those guys are buying Super Bowl ads and driving up the cost of pay-per-click search advertising.
Fortunately, two-thirds of those consumers doing online research said they prefer buying from companies who sent them customized news and articles rather than companies who just advertised. Email marketing, website marketing, and social media marketing are great channels for staying top-of-mind of your local community and driving traffic to your website.
Don't know where to start? Here is how to do it:
How to Create a Marketing Strategy for Your Insurance Agency
A great marketing strategy prioritizes potential customers who are looking for your service. Our first step is to make sure that they can find us when they are looking for insurance. Fortunately, there are simple steps that you can take to ensure that your agency gets found.
Start with The Online Basics
The customers' search for insurance almost always includes a search on Google or another search engine. You want your agency to appear in the search results. Here is how you do that:
Google, Bing & Other NAP Citations
Google My Business
The first step is to take control and management of your Google listing via the Google My Business tool. This is completely free and you can learn more about the process here.
By taking control of your listing via Google My Business account, you can control what Google displays about your business in regular Google Search and Google Maps. You can add helpful information such as your phone number, website, and operating hours. I recommend adding photos to your listing, such as photos of you and/or your producers, which makes the search experience more personal. You should also include a photo of the entrance to your office, making it easier for people to find you.
According to Google, listings with photos get 42% more requests from directions on Google Maps and 35% more click-throughs to the company website.
Bing Places
While Google is the overwhelming most-used search engine, Microsoft's Bing search engine is still used enough that we need to pay attention to it. Fortunately, Bing has a tool similar to Google My Business. It's called Bing Places.

I recommend going through the same process of claiming and managing your Bing Places listing.
In many circumstances, Bing Places can be an effective tool because most small businesses overlook it since Google is so dominant.
Name, Address, Phone Citations
Besides Google and Bing, there are hundreds of other credible websites where your business contact information might appear. They are like digital business cards. It's best practice to make sure that each one of those listings, known as NAP citations (short for name, address, phone number) are accurate and consistent.
There are two reasons for this:
If a potential customer finds themselves on one of these listings, you want your agency's contact information to be accurate so that they can connect with you.

Google and other search engines see these other NAP citations. If there are discrepancies in your contact information, for example, if your address isn't consistent, the search engines are less likely to show your business on search results because of potentially unreliable information.
Although there are hundreds of these websites that include NAP citations, you don't have to contact each one of them to establish control of your listings. There are services such as Yext and BrightLocal which will correct and manage your NAP citations for a monthly fee.
Your Social Media Platforms
More than 600 million users visit a Facebook Business page every day. People use Facebook, in some ways, like a search engine. Have you ever searched for a business on Facebook? Virtually everyone with a Facebook account has, at least once.
If you haven't done it already, you should make a Facebook Page for your agency. Then, follow these best practices for social media marketing:
Make a recognizable profile photo. If you're a solo agent, consider using a nice headshot. If you are a larger agency, then consider using your logo.

Use an engaging cover photo. Your cover photo takes up a lot of space. Use it wisely.

Add a call-to-action button that will allow a potential customer to contact you or your team.

Write relevant information about you and your agency in the "About" section of your page. Include information about how you help your customers.

Post videos and photos to your timeline.

Pin your most important posts to the top of your timeline so that your potential customers see it first.

Consider allowing users on Facebook to message you via Facebook Messenger. If someone is already on Facebook and they want to talk to you, why not make it super-easy by enabling the Messages feature. However, if you do it, make sure that someone is available to promptly respond to messages.

Respond to comments on your page.
In addition to Facebook, I recommend that you leverage LinkedIn, making personal profiles for you and your producers; as well as, an agency page.
For agencies that sell business lines, LinkedIn can be a powerful tool for prospecting. It can also be a good referral tool for both business and personal line sales.
Your Website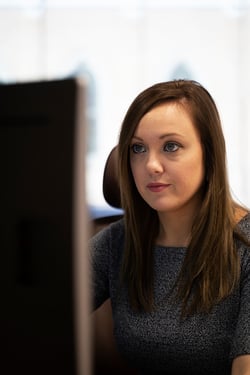 Your agency's website can be the single most important marketing asset that you own. A great website serves as a reliable source of new leads and customers.
Here are some best practices to follow when making an independent insurance agency website:
Make sure that the website loads quickly. Slow-loading web pages frustrate users on mobile devices and search engines penalize them. Load speed is an important search engine optimization factor. You can check the load speed of your website at this tool.

Make it easy for your website users to start the process of getting a quote or talking to you. Put a call-to-action on your website's pages in a prominent position, in the middle of their view. Don't ask for too much information on the form. Just get basic contact information so you can call them or email them. And then, get back to them quickly.

Always include an About Us page and a Privacy Policy page. Those have become mandatory pages for ranking on Google and other search engines.

Ask for links to your website from organizations with which you have a relationship. For example, if you sponsor local non-profits or community events, ask the managers and organizers to make a link on their website to your website. If you have referral relationships with other local businesses, such as mortgage companies, ask them to include a link on their website to your website.
Email Marketing
Marketing via email is one of the oldest digital marketing mediums. And it remains a cost-effective channel to reach new customers and retain current customers.
Ask website visitors to subscribe to your blog and/or email list. Exit-intent popups are a good lead generation tool for growing a blog subscription email list. These little subscribe forms popup when the user makes a move indicating that they are done reading the blog post or web page.
Guard Your Reputation
You will have no more powerful marketing channel than one person recommending you to a friend or acquaintance. Poor online reviews can make selling to new customers difficult. It's a good idea to catch unhappy customers before they make that online review. Fortunately, there are tools, such as BirdEye and Reputation.com that you can use to encourage positive reviews and catch potential negative reviews before the customer posts them.
Create Buyer Personas
It's likely that not every human being is a good prospect for you. If you sell personal lines, it's likely that your best customers are homeowners with a home over a certain value. Obviously, if you specialize in business lines, then only business owners and/or upper managers are good prospects.
A useful buyer persona is a semi-fictional representation of your ideal customer. The buyer personas that you develop will help you focus your marketing and sales efforts on potential customers and referral partners that are most valuable to you. For more information on buyer personas, check out this resource from the marketing software company, HubSpot.
Once you've developed your personas, it's time to start making marketing content.
Develop the Right Content & Promote It
Since almost all insurance customers are using the internet to research and buy, as an independent agency, you need to be making content that helps the potential customers become an actual customer.

Content Marketing
Online content comes in many forms. It can be the written word, such as blog posts. It can also be videos, graphics, and audio (like podcasts). Content can also be interactive, like in the case of an online quote tool.
The key to creating content that will drive customers for you is to answer the questions that your potential customers are asking. No doubt, as an agency owner, you already know what people are asking you.
Use a COPE strategy to maximize the content that you make. COPE. means Create Once, Publish Everywhere.
One example of an efficient COPE strategy is:
Write and publish a blog post on your website blog which answers a common customer question.

Record a video in which you discuss the question and the answer. It doesn't have to be a fancy production. You can even use your smartphone camera--just make sure that your face is well-lit and the audio is clear. A common iPhone headphone/mic combo is a good way to get clear audio.

Upload the video to YouTube, Facebook, and Instagram. Make sure that you describe the content in the appropriate places when you upload it.

Share the content in all of its forms via your social media channels and email marketing list.

Use a marketing analytics dashboard like Databox and examine the content's analytics to understand which channels are performing best.

Spend more time and resources on those channels which are driving the most new customers.
Social Media Marketing
Almost 3 billion people worldwide use social media. It's an important medium.
In addition to your COPE strategy, social media is an excellent medium to present your agency in a positive light.
Strive for an 80/20 blend of content, in which approximately 80% of your social media content isn't necessarily a direct appeal to buy insurance from you. Keep it fun and post regularly. After all, ultimately, we're building relationships.
Make It Easier to Start the Sales Process Online
If you close your eyes and imagine a person holding their phone, how are they holding it? Are they holding it up to their ear, talking to someone? Probably not. The image in your mind is most likely of a person reading or chatting on their smartphone.
People just don't talk on the phone as much. So, don't force your potential customers to make a phone call in order to get in touch with you. Like I mentioned above, put a "Get Started" form on your website and make sure that it's highlighted in the view of users when they view your website. Let people get started via Facebook Messenger, if you someone can regularly monitor the inbox.
Stay Flexible
Once you've established the basics, stay patient. It takes time for most of these measures to start showing results.
Also, pay attention to which channels perform first and add to channels that you can confirm are effective. For example, if your YouTube videos are driving new customers growing your business, then double-down on that medium; increase your publishing frequency.
Once you get started, it will be much easier to make good investment decisions with your marketing budget.
Tony Caldwell
Tony Caldwell is a modern "renaissance man," who is not only immensely successful in the field of insurance, but is also a writer, children's advocate, mentor and even a licensed pilot.

Always keen on helping others make their dreams come true, Tony and his team have helped independent agents grow into more than 250 independent agencies. This has made OAA the number one ranked Strategic Master Agency of SIAA for the last 5 years, and one of Oklahoma's 25 Best Companies to Work for.

Tony loves to share his knowledge, insight and wisdom through his bestselling books as well as in free mediums including podcasts and blogs.

Tony and his family are members of Crossings Community Church, and he is very active in community initiatives: he's chairman of It's My Community Initiative, Inc., a nonprofit working with disadvantaged people in Oklahoma City; and chairman of the Oklahoma Board of Juvenile Affairs., and he has served through many other organizations including the Salvation Army, Last Frontier Council of the Boy Scouts of America, and the Rotary Club.

In his spare time, Tony enjoys time with his family. He's also an active outdoorsman and instrument-rated commercial pilot.