June 18, 2019
A Can-Do Mindset is Essential for Insurance Agency Success
4 min read
Topic: Growth Agent Insight Insurance Agency Growth Strategies Start an Agency Grow an Agency
Where you go in life and business is up to you. Yes, it's true that some are more successful than others. Not everyone ends up with a huge organization, fabulous wealth or the ability to do everything their mind can dream up. However, every single person who ends up more accomplished, satisfied, and usually surprised by their "success," is someone who decided to try and who never stopped the active belief in their thinking that they can or will.
Follow the Leader or Think Differently?
As you build your business, you have a choice. Follow a conventional model, work hard and become conventionally successful, or say, "this sucks" and do things differently. Both work! What do you choose?
The founder of Patagonia outdoor wear, a $750 million-dollar company started from scratch in 1973, has an interesting take on what it means to be an entrepreneur. He says, "If you want to understand the entrepreneur, study the juvenile delinquent. The delinquent is saying with his actions, 'this sucks. I'm going to do my own thing.'"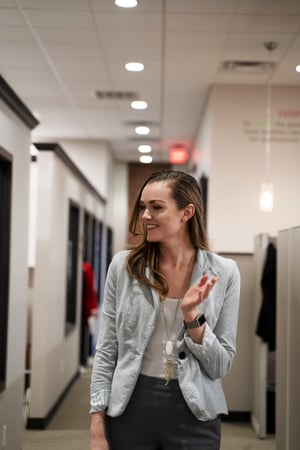 I think there is more to delinquency than that, but I get what Yvon Chouinard is saying.
Michael Gerber, in his book "The E Myth," points out that most businesses are created by someone who doesn't like their boss, wants to make more money or wants more freedom with their time.
Often, but not always, the businesses that are started due to one of those reasons, are just clones (more or less) of the business where the founder worked. These types of businesses tend to do for them what their previous CEO set out to do, but they don't ever really succeed at a high level, change the game in their industry or make them tremendously successful.
The kinds of founders Gerber talks about, who found the overwhelming majority of new businesses, aren't entrepreneurs. That's why he titled his book, "The E Myth."
Chouinard is saying something very similar. The true entrepreneur is the person who decides to take a different approach because they hate the ones currently in existence, or at least think there is a better way to do it.
Right now, the insurance distribution business is full of entrepreneurs who, like delinquents, have declared that "this sucks." They are all trying to reinvent distribution. Typically, most will fail, but in failing they will change the industry, and some will succeed wildly.
Be Successful on Your Own Terms
Being an entrepreneur isn't limited to game-changers though. Even small businesses, with no real thought of world domination, can create business models that become wildly successful on their own terms. This is in fact what happened to Chouinard, who just set out to build a small company that would allow him to only work half the year.
For Chouinard, the norms of business weren't good enough. He thought, "this sucks," so he intentionally created a business that would give him what he wanted whether anyone else thought it was appropriate or not.
He has built a successful company that hasn't changed the clothing game – but it is successful – both in his and in everyone else's opinion. However, success only came because he was willing to do things differently – his way.
And he was able to do it because he thought he could. Mindset is everything.
Focus on What You Can Do, Not Your Limitations
I know a man through an online pilot forum I participate in who lives in Wisconsin and in Florida, and who is less than a year older than I am. I am 62. He's a very nice fellow who invested over the years, made a good living and is now in classical, comfortable American retirement.
As I read his post, it's clear to me that he is also classically "retired" from a mental standpoint as well and is focused on his limitations. What he cannot do is more in the forefront of his thinking than what he can. He is very limited in his vision of the future.
I also know a man who is 69 and last year climbed Mount Kilimanjaro, which is 19,341 feet above sea level. He plans to do it again next year. I know many other men and women who are also in their late 60's and early 70's who are in the midst of starting new businesses. All these people have visions of their futures that span decades and they are focused on capability and growth; not limitations and decline.
Believe You Can
The fundamental difference between my Florida friend and the others is mindset. The latter group doesn't necessarily possess greater wealth, ability, health or genetic longevity. They just have dramatically fewer self-imposed limits on their thinking.
They believe they can. They believe they will. My Florida friend believes he can't, so he won't.
I encounter business owners every week who fit one or the other of these mental positions. Those with can do and will do mindsets are much different in terms of their results than the others are. They generally make a lot of progress financially and obstacles that stop the latter group, they just take in stride and overcome. I believe it is their mindset that makes the difference.
When you talk to the people with the "can do and will do" mindset. you find that some of them have always been this way, but that's not always the case. Many had a "eureka" moment. According to the dictionary eureka means, "a cry of joy or satisfaction when one finds or discovers something." Somewhere on their journey they discovered that if they will, they can.
Which mindset do you have? If you believe you can't or won't, may I encourage you to try to think differently? No one reaches the end of the journey or achieves the goal immediately, but everyone who does starts the process!
Tony Caldwell
Tony Caldwell is a modern "renaissance man," who is not only immensely successful in the field of insurance, but is also a writer, children's advocate, mentor and even a licensed pilot.

Always keen on helping others make their dreams come true, Tony and his team have helped independent agents grow into more than 250 independent agencies. This has made OAA the number one ranked Strategic Master Agency of SIAA for the last 5 years, and one of Oklahoma's 25 Best Companies to Work for.

Tony loves to share his knowledge, insight and wisdom through his bestselling books as well as in free mediums including podcasts and blogs.

Tony and his family are members of Crossings Community Church, and he is very active in community initiatives: he's chairman of It's My Community Initiative, Inc., a nonprofit working with disadvantaged people in Oklahoma City; and chairman of the Oklahoma Board of Juvenile Affairs., and he has served through many other organizations including the Salvation Army, Last Frontier Council of the Boy Scouts of America, and the Rotary Club.

In his spare time, Tony enjoys time with his family. He's also an active outdoorsman and instrument-rated commercial pilot.