OAA provides unmatched local, regional and national profit sharing requirements. We have the highest commission rates available, and our local, regional and national production bonuses are unheard of in the industry.

Our profit-sharing commission program has no requirement for minimum premiums, making it accessible to every single one of our independent insurance agents, regardless of agency size.
Independent insurance agents can increase their income by joining OAA and participating in our profit-sharing program. This program allows every agent, no matter the size of their agency, to earn more income from their efforts.
Joining OAA means adding immediate revenue without increasing your expenses.
Boost Your Agency's Value
Your agency will become more valuable as soon as you join OAA. You not only will have access to our training and coaching programs but also the profit-driving features of profit sharing and bonuses.
Independent insurance agents who are OAA members can increase the value of their agencies whether the goal is to build an agency from the ground up or increase the value of an existing agency so that it can be sold.
Profit sharing secures your agency's value as well as your family's future.
OAA's profit-sharing program truly is unique in our industry. Unlike other programs, our independent insurance agents are eligible for profit sharing with no required minimum premium levels! Regardless of how long an agent has been in the industry or how big their agency is, everyone has access to profit sharing thanks to OAA!
Profit sharing alleviates some of the pressure of being an independent insurance agent because there is more security than being fully on your own or strictly commission-based. Your family's future will be more secure because you will be participating in a program that protects all of our agents.
And of course, as OAA helps you become more successful as an insurance agent, you also end up increasing your share of the profits. Profit sharing creates a collaborative environment that is at the heart of OAA.
We believe in creating opportunities for independent insurance agents to be a part of a larger team. Even though our members still are making all of their own decisions and running their agencies as they see fit, they also are benefiting from being part of a network. Profit sharing is one of the main benefits of our system.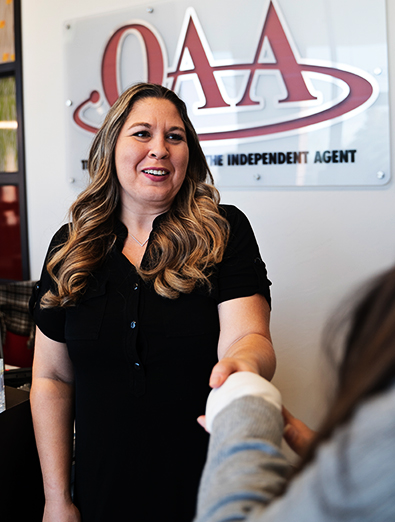 Questions? We have answers.
Talking about questions & answers below, but if you still have a question, you should Contact Us
Check out potential members' most Frequently Asked Questions below, and don't hesitate to contact us with any additional questions about OAA membership.
What can I expect after joining OAA?
What are the requirements to join OAA?
What are the revenue opportunities?
Join OAA
We invite independently minded insurance agents to join our network today, regardless of where they are in their careers. You might be ready to start a new, growth-driven agency. Or you might be an established agency on the path to independence. We also work with experienced agents who are ready to increase their profits and grow their businesses so that they are in the prime position to sell.