November 4, 2020
Social Media Marketing for Insurance Agents in 6 Steps
6 min read
Topic: Guides Insurance Marketing Grow an Agency
Like anything in life, if you want to do it right, you need a plan. Marketing strategy may not be your wheelhouse, but you can make social media platforms work to bring potential clients to your small business. All insurance agencies must have an online presence these days, even if it's just a simple business page.
If you want to grow your business but you don't have the budget for a huge marketing campaign, like the insurance companies do, leverage the power of social networks and content marketing, and make a big splash in the insurance business without a large investment.
This blog should walk you through how to build a plan that works. So here's to building a spreadsheet!
1. Get the right tools for the job.
You need some tools to work within the insurance industry, and the same applies to social media marketing. These are a few valuable tools - the best part is that you can test or even use most of them for free.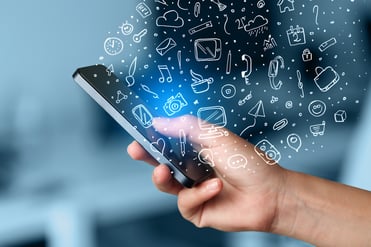 2. Start by setting a goal for each social media channel.
Do you have a Facebook page? Are you on Instagram? Have you heard your kids talk about TikTok? Every social media channel is used differently by different demographics: Facebook, Twitter, and Pinterest attract different audiences, and not every channel may be right for you.
Once you determine which channels to focus on, set your goals for them.
What are some good goals?
Drive website traffic

Increase brand awareness

Build our network

Increase engagement

Grow our audience

Generate leads
Should you claim all your social media profiles, even if you won't post to them?
Yes.
Absolutely! Even if you don't intend to post a single TikTok in your life, by claiming your brand name you ensure nobody can impersonate you online. You should own your space!
Should you post on all social media channels?
No. It's too much to keep up with, and they don't all make sense for your target audience. Define 3-4 for you to focus on and push those.
3. Determine what success looks like.
It's not enough to just set a goal - how will you measure progress and success for that goal? With social media KPIs. For example, if your goal is to drive website traffic with one of your social media channels, then you should measure success by tracking clickthrough rate, clicks, and sessions by source.
Be kind to yourself. If this is your first time to really focus on social media strategies, you can't expect success overnight, but you should expect to make improvements month over month. Set small goals, achieve them, and keep growing.
4. Define your content strategy for each channel.
We recommend using the COPE template (create once, publish everywhere). According to the content marketing institute, COPE is " a highly sustainable technique of building strong, foundational assets that can be expressed in different forms and easily adapted for use on multiple content channels — as part of a single, unified process." Create really good content with a solid message, and then repurpose it and reuse it on various platforms!
Should you post the same thing on all your social media channels?
No. Different social channels answer different questions and provide different experiences. The screenshot below lays out the key questions for a few of the most popular social channels.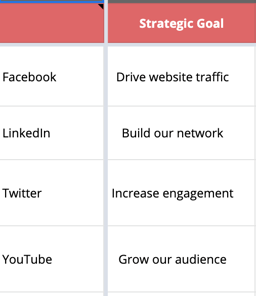 What should you be posting on your social media channels?
Choose content formats that you feel comfortable with. If it's easier for you to write, then consider creating blogs and linking to them. If you're more comfortable being on camera, consider recording short videos and sharing those. Most importantly, you want to try different types of content and see what works!
It's not all about your product. LinkedIn developed a great framework for content types, called 3-2-1, which they apply to employee activation: letting employees create content for the company's social media. They suggest that for every 6 pieces of content published:
3 are SMART, allowing employees to showcase their expertise and knowledge. In the insurance business, they could be writing about new trends, industry insights, and good advice.

2 are PROUD, highlighting cool aspects of the company culture and achievements, and aspects such as donations and volunteering.

1 is SUCCESSFUL, promoting products or services, or advertising job postings.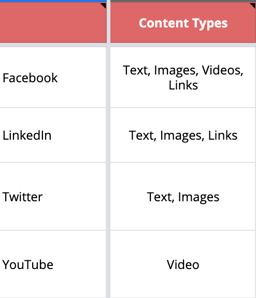 How often should you be posting content on your social media channels?
It depends on the channel. The generally accepted rule is that it's more important to be consistent no matter what schedule you set.
That said, consider the lifespan of any content you do push: seasonal content must be replaced after a certain time, while other types of content may age better.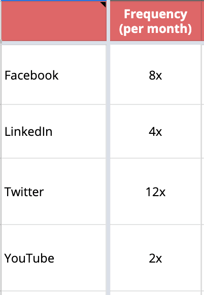 Where should you be posting?
This seems like a silly question-- but the reality is you don't just have to post to your page. Comment and ask questions, engage, and interact in other places where you might be found by the right kind of people. Groups on Facebook and LinkedIn both get great reach; you should identify a few groups to be a part of.
How will you say it?
If you'll have a team in place to help you with social media posting, you should have a visual standard guide and brand voice guide. This gives everyone very clear parameters for word choice and image choice.
5. Set aside a paid media budget, no matter how small!
In today's world, organic posts don't have the same reach that they used to. You need to set aside some budget to get some extra eyes on your posts. We've heard the suggestion of investing twice as much as the average cost of your product or service, but if this sounds like too much then remember: every little bit helps.
6. Measure, learn, and keep going.
Brian Clark, podcast host of Unemployable, a great podcast for entrepreneurs, says "No matter what, keep going" That really is the most important thing. Don't just keep going aimlessly, but learn something every month, try something new, congratulate yourself on your successes, learn from what didn't work, and keep going!