December 6, 2019
Drive is the #1 Predictor of Success
1 min read
Topic: Growth Agent Insight Video Insurance Sales Insurance Agency Management sales
Agency owners ask me all the time, "What should I look for when hiring a salesperson?" And that's a great question. You know in the insurance agency business, only about 10 percent of the people we hire as producers succeed and make it long enough to validate.
That's a pretty poor track record, and I think it means we really could do a much better job of thinking about who we want to hire in the first place. It's somebody who should be able to demonstrate that they've been successful in the past at something. Not necessarily in sales, but even if it was being a lifeguard, how are they the best lifeguard at the pool? Make them prove it.
Drive vs. Ambition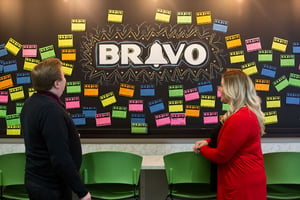 The other thing is, they need to be driven. Ambition is great. Ambition is wanting something. Drive is the absolute determination to get it, no matter what happens. Drive is the #1 predictor of success in sales.
The last thing to look for is a competitive spirit. Great sales people love to compete. They'll compete with themselves if there's no suitable competitor available. But you want people who want to be #1, who are driven to be #1, who have the ambition to be #1, and who have been #1 in their life and who are scared to death of not being #1.
So you get drive, ambition, prior success and a competitive spirit, and you're a long way down the road to success with a salesperson.
Tony Caldwell
Tony Caldwell is a modern "renaissance man," who is not only immensely successful in the field of insurance, but is also a writer, children's advocate, mentor and even a licensed pilot.

Always keen on helping others make their dreams come true, Tony and his team have helped independent agents grow into more than 250 independent agencies. This has made OAA the number one ranked Strategic Master Agency of SIAA for the last 5 years, and one of Oklahoma's 25 Best Companies to Work for.

Tony loves to share his knowledge, insight and wisdom through his bestselling books as well as in free mediums including podcasts and blogs.

Tony and his family are members of Crossings Community Church, and he is very active in community initiatives: he's chairman of It's My Community Initiative, Inc., a nonprofit working with disadvantaged people in Oklahoma City; and chairman of the Oklahoma Board of Juvenile Affairs., and he has served through many other organizations including the Salvation Army, Last Frontier Council of the Boy Scouts of America, and the Rotary Club.

In his spare time, Tony enjoys time with his family. He's also an active outdoorsman and instrument-rated commercial pilot.