April 15, 2020
Automate Your Marketing Processes to Maximize Growth
6 min read
Topic: Growth Agent Insight Insurance Sales Insurance Agency Management Grow an Agency
Growing your insurance company means finding qualified leads and nurturing and servicing current ones, but running your agency means wearing a lot of hats, and your time is valuable. Once you've run out of friends, family, and acquaintances, where will your new clients come from? And how do you get them without spending all of your time writing emails and social media posts, not to mention cold calling?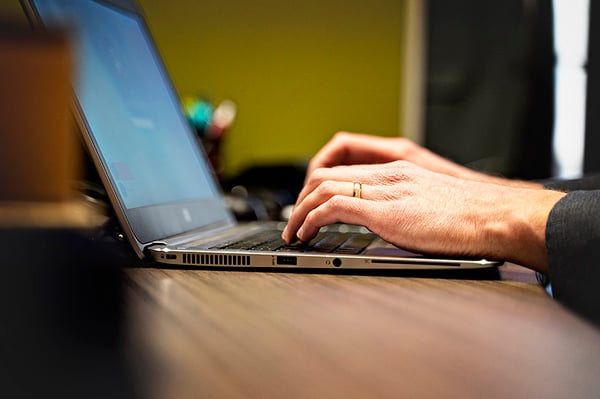 Your existing clients won't appreciate you spending all of your time looking for new business instead of helping them. So, how do you streamline your agency processes to spend your time on activities that get you the most bang for your time and money, not to mention keeping happy clients?
It all starts with a plan of what you want to do, how you'll do it and when you'll do it. Will you use direct mail? Telemarketing? Social media? Reserve one day a week for cold calling? Decide. Then decide how much. If you know what and how much, you can decide when.
Answer These Questions…
Naturally, you're asking: How much activity will it take to get x results? But, really, the question is what do you need to do and what do you need to plan for?
What is your growth goal?
What is your average sale?
What is your closing ratio?
How do you get prospects?
Let's assume that:
You want to add $25,000 in commission revenue to your agency – this is your growth goal,
Your average sale is $450 commission (not premium).
You're an average salesperson and your closing ratio is 35%.
You get your prospects from a direct mail campaign and your response rate is 1.5%.
From these assumptions "how much" becomes clear:
You need 56 sales! ($25,000 goal divided by $450 average sale).
You need 160 prospects! (56 sales divided by 35%).
You need to mail 10,650 mail pieces (160 prospects divided by 1.5% x 160 = 10,666)
Don't get hung up on whether you think direct mail or email (or both) is the best way to advertise, or whether you think the closing ratio is good or bad. That's not the point. If you know some basic numbers, you can easily figure out how much activity you need to reach your goal.
Every marketing and sales team has a different idea about the best way to sell insurance. You have different goals, talents, resources and abilities. But we can all achieve our goals with the appropriate amount of activity.
Figure out how much.
Then, Put Your Prospect Marketing Plan on Autopilot
Use today's marketing automation software to your benefit. Don't be intimidated – it's become increasingly user-friendly and eases the burden of everyday marketing tasks.
Customer Relationship Management (CRM) systems can be used to manage all of your agency's relationships and interactions, whether they're existing or potential clients. Companies use a CRM system to help them and their sales team stay connected, streamline processes, and improve profitability.
With a marketing automation platform, you can write email campaigns far in advance and schedule sending them when you want to. For example one of OAA's rapidly growing agency owners is using a CRM system to contact prospects each month. He has five years of emails set to run to these prospects! If one of the prospects becomes a customer, he kills the email series to them and sends them a five year set of customer nurturing emails. If he loses the customer, he kills the nurture email series and starts the "we want you back" series.
While writing a long series of emails can be tedious, this particular agency owner is growing 25% per year – on autopilot.
This is just one way to market to prospects and customers but it makes the point. You can just as easily have the CRM program send direct mail, or send a contact list to a telemarketer every week for calling. Or, you could have it automatically schedule pre-recorded voice messages. This is a very powerful technique. The CRM could also text your customers. CRM programs can do these tasks automatically. And it's a great way to market informative, educational and lead generation online content.
Use Your CRM to Easily Nurture Client Relationships
Clients who feel you care about them are likely to stay with you longer. You must nurture customer relationships, and that means contacting them outside of renewal time. You want more than their money; you want their loyalty. Think about contacting them once a month using your CRM. After all, you're busy running an agency and selling insurance.
With your CRM system, you can:
Email or text your customers
Mail them a letter, a postcard, a newsletter or a quote for a new product
Leave an automated voicemail message
Send a video email
Virtually anything that doesn't require you to be physically present can be done via your CRM. You'll also gain customer data regarding needs and interests to sell them other products.
Autopilot your nurturing program. Design a year or more's worth of contacts at once. Mix it up and use both email and printed material. Leaving a voicemail is powerfully effective, and easy to do. You can also text.
Write the emails and letters. Pre-record the voicemail. Pre-write the texts. And then schedule them to go out at the appropriate time in your CRM. Now, sit back and relax – your customers are hearing from you regularly and your autopilot is doing all the work!
An important tip: Be sure to always give your customers the ability to opt-out of any method of communication; you want to nurture a good relationship, not annoy them.
Auto-Sort Emails for More Efficiency
You've sent out prospect and client emails, and the reason you sent them is because you want a response. This is a case of "be careful what you wish for," because email can become an overwhelming, time-consuming task.
Did you know that the average professional spends 28% of the workday reading and answering email? For the average full-time worker in America, that amounts to a staggering 2.6 hours and 120 messages received per day!
With everything else you need to do, how can you have time for that? As an independent insurance agency owner, time is of the essence. When your inbox is full of correspondence from customers, carriers, partners, and others, time management and streamlined processes are vital in order to make sure your customers get the great service they expect.
Brandon Sherman, the owner of S&H Insurance and an OAA member, shared his method for organizing your Outlook email to save time and energy while ensuring nothing slips through the cracks. Setting up these rules means emails will go to the right person or department for a prompt response.
On the Outlook main page, select "Rules" drop-down and "Manage Rules and Alerts".
Select "New Rule"
In "Step 1: Select a Template," select "apply rule on messages I receive"
Click "Next"
Under "Step 1: Select conditions," select "with specific words in the subject or body"
In the bottom in "Step 2 Box," click on the blue text that says "specific words," enter the words you would like Outlook to search for

(i.e.: ID Card, verification, etc.)

Once all the words you want sorted are entered, click next.
In "Step 1: Select action(s),"

Select "forward it to people or public group" OR
Select "move it to the specified folder"


Once again in the bottom "Step 2" Box click the blue words link to determine the destination.
Select Next
On this screen, you can choose exceptions to the rule. If there are none, click "Next"
On the final screen:

Name the Rule
Choose to Run the rule on messages in the current account
You can also choose to "create this rule on all accounts;" this will run the rule for all accounts on your outlook.
Click "Finish"
IMPORTANT: Always test the rule by sending yourself a test message for each word separately.
That's it! You're finished, and your email is now more organized and ready for your inflow of daily emails.
Have Questions? We Have Answers.
If you'd like more information about cost effective CRM, how to automate voicemail messages, video email, auto texting or other simple, easy to use, cost effective marketing strategies, give us a call at 405-702-0900. OAA is dedicated to the growth of the independent insurance agency and we have many resources available to members.
Tony Caldwell
Tony Caldwell is a modern "renaissance man," who is not only immensely successful in the field of insurance, but is also a writer, children's advocate, mentor and even a licensed pilot.

Always keen on helping others make their dreams come true, Tony and his team have helped independent agents grow into more than 250 independent agencies. This has made OAA the number one ranked Strategic Master Agency of SIAA for the last 5 years, and one of Oklahoma's 25 Best Companies to Work for.

Tony loves to share his knowledge, insight and wisdom through his bestselling books as well as in free mediums including podcasts and blogs.

Tony and his family are members of Crossings Community Church, and he is very active in community initiatives: he's chairman of It's My Community Initiative, Inc., a nonprofit working with disadvantaged people in Oklahoma City; and chairman of the Oklahoma Board of Juvenile Affairs., and he has served through many other organizations including the Salvation Army, Last Frontier Council of the Boy Scouts of America, and the Rotary Club.

In his spare time, Tony enjoys time with his family. He's also an active outdoorsman and instrument-rated commercial pilot.