November 5, 2021
OAA Once Again Named One of the Best Places to Work
1 min read
Topic: Company Newsroom
One Agents Alliance has once again been named one of the Best Places to Work in Oklahoma!
The Journal Record and the Best Companies Group have teamed up for the fifth year to honor Oklahoma businesses and organizations excelling in creating quality workplaces. Companies are selected based on employee interviews plus workplace policies, practices and demographics.
"In these challenging times, it is important to recognize and honor those companies that are truly investing in the well-being of their employees," said Joe Dowd, interim editor at The Journal Record. "The 36 companies being honored this year represent a variety of industries from across the state that understand the importance of their workers."
We're the best team around and the Journal Record Best Places to Work in Oklahoma has us ranked at #3 again on the list!
One Agents Alliance, one of Oklahoma City's Top 15 Fastest Growing Companies, gives independent insurance agents the tools they need to instantly become big.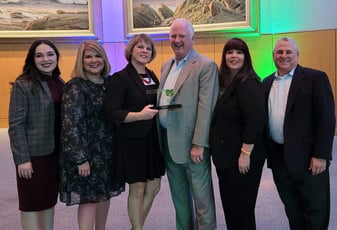 OAA is proud to have received the Best Places to Work recognition in 2019, 2020, and now, 2021. The Journal Record recognized OAA on Nov. 4 during its 2021 Best Places to Work in Oklahoma program at the National Cowboy & Western Heritage Museum.
As OAA continues to grow, there are many different opportunities available. Our newly remodeled modern office is located in the historic Automobile Alley in the heart of Oklahoma City.
Keep a lookout for coming opportunities or contact us today.
Send a cover letter and resume to info@oaaonline.net.