September 8, 2020
Independent Insurance Agency vs Captive - Which Is Best?
6 min read
Topic: Blog Growth Agent Insight
There are two different kinds of insurance agencies selling personal and commercial insurance in the United States. One kind of agency is known as a captive or exclusive agency, and agents who own or work in these kinds of agencies pretty much work for one insurance company, and they are required to sell the company's products exclusively. Independent insurance agents, on the other hand, are free to sell insurance for multiple insurance companies. They have the ability to pick and choose among over 1000 insurance product options to offer their clients and customers.
In recent years, many captive agents have looked at the independent agency channel and decided that there is more opportunity as an independent agent than there is as a captive. While that's often the case, it's important to understand the differences between captive and independent insurance agencies.
Independent Agency and Captive Differences
Yes, it is true that independent agencies have the ability to offer more choices in terms of insurance carriers than an exclusive agent. But independent agencies do have limitations in the number of carriers that they can effectively represent.
Limitations
The first limitation is that it is simply impossible to know the product offerings, underwriting, philosophy, and systems of very many insurance companies. Also, independent agency companies all have minimum premiums that they require in order to obtain (and retain) the right to represent them. In some cases, especially for smaller agencies, this means that the carriers the agent represents may not be able to offer the competitive pricing or the quality of products that the exclusive agent offers with his or her sole company, for example in a case of life insurance.
Being Your Own Boss
Another key difference between captive vs independent insurance agencies is that the independent agent is their own boss. There is no district manager or other management person for whom that agent must work. While this freedom is attractive, it does mean that the successful independent agent must be a self-starter, driven, and able to manage their own business and offer excellent customer service without outside assistance.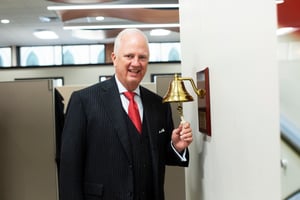 Who will make the phone ring? One of the things that direct-writing insurance companies do on behalf of their agency force is almost all of the advertising. They spend millions (or billions) of dollars promoting their products in all kinds of media so that prospects will call an agent to buy from them. Often, much of the business the agent writes is as a result of the marketing done by the parent company.
On the other hand, independent agents must make their own phones ring. They must develop their own marketing programs and they do so at something of a disadvantage because they simply can't match the advertising penetration of a Fortune 500 company.
However, in exchange for the responsibility of doing their own marketing, independent agents typically are paid a much higher rate of commission, often as much as 50% more. Most independent agencies become very adept at spending those additional dollars to generate the sales that they want to make with money left over. So, while it may be more work for an independent agency to generate their own prospects, they get paid more money for doing so.
Ownership of Agency
A significant difference between a captive agent vs independent agents is in the ownership of the value of the expirations. In a typical captive insurance contract, the real owner of the insurance account is the company. The agent may have a vested interest or a defined payment interest in the value of the book of business, but who they can sell it to, and for how much, is almost always controlled by the insurance carrier. In contrast, an independent agency's book of business is owned by the agency. Its potential buyers are whoever it wants to sell to, including employees, family members, or other agents. Because the pool of potential buyers is always so large for the independent agency, independent agencies tend to sell for much more per dollar of income than captive agencies do.
Simply put, it's easier to build a significant net worth in the business as an independent agent as compared to a captive agent.
Options for Potential Clients
A more obvious and very important distinction between the two types of agencies is the matter of choice. While captive agents only have one choice to offer a potential client, an independent agency may have five, seven, or even more choices for their clients. This often means the independent agent is able to sell a higher percentage of the prospects he quotes than the captive agent.
Retention Rate for Agencies
Another advantage for the independent agency in this regard is that their retention rates are easier to maintain at a high level because if the insurance company a client is with raises its prices, it's possible for the independent agent to replace the policy with a less expensive one because of its power of choice. The captive agency can't do that. They just have to say goodbye to the customer (and the commission from that customer)!
Attraction for Clients
Related to this, but not quite so obvious, is why consumers and business owners buy from a captive insurance carrier, as opposed to an independent agency carrier. For captive customers advertising, signage, location, and other elements of branding are primary reasons why the client is attracted to do business with the agency in the first place.
For an independent agent, the attraction mechanism and the value proposition are much different. For an independent agency, what attracts clients and customers is primarily the relationship the agency is able to develop with that client, and the flexibility that choice provides. For an independent agency, location, branding, signage and other physical elements of marketing are less important (which also often serves to lower operating expenses and improve profitability).
Carrier Representations of Agencies

A critical difference between the two kinds of agencies is a byproduct of carrier representation. When a captive agency's parent company decides that a class of business, or a type of policy, is no longer profitable to them they simply make the decision to stop writing that kind of business. This leaves the agent to deal with the loss of an income they may have worked many years to develop.
When an independent agency company makes a similar decision, the independent agent simply moves the book of business to a different insurance company, maintaining the clients, policies, and income. This is a significant driver of stability, income, and value for insurance agency owners and contributes to the higher value of independent insurance agencies.
Economic Disadvantages
A difference between captive carriers and independents, which is increasing in importance, is a fundamental economic disadvantage that captive insurance carriers face, compared to their independent agency carrier competitors. This is the difference in what it costs for a captive insurance company to write and sell a dollars' worth of insurance compared to what it does for an independent: it costs the captive carrier more. This is true because the captive carrier must spend enormous sums on marketing, pay agent's commissions, and provide a large management structure to manage its agency force. All of which costs a great deal of money.
Independent agency companies, on the other hand, spend little to nothing on marketing and have very small field management structures because their agents are all independent business owners. This cost advantage for independent agency companies allows them to pay higher commission rates and larger bonuses to their independent agency force.
The combination of higher compensation and the ability to sell a higher percentage of prospects that independent agents enjoy has led many captive agents to leave their employers and open their own independent insurance agencies in the last decade. This trend appears to be continuing as the competitive advantages of the independent agency carriers continue to increase.
Focus of the Agency
Another significant difference between the typical captive insurance company, and the typical independent insurance agency, is that that most captive insurance agents focus almost exclusively on personal insurance. They do this because their carrier either does not write commercial insurance at all or it is a sideline for them.
Independent agents, on the other hand, can develop balanced books of business because they have the flexibility to represent insurance carriers that are competitive in both personal and commercial insurance. Being able to write a more balanced book of business reduces book volatility for the independent agent, but also increases opportunity and commission income.
Freedom of the Agency
Finally, a significant difference for many agents between captive carriers and independent carriers is freedom. Independent agents like to say they are independent agents because they're independent. They want to be able to write the kind of business, where they want to write it and with whom they want to write it. Exclusive agents, by contrast, have less choice, and flexibility and also have a management structure that they must be accountable to.
In the end, regardless of the employment agreement structure, a captive, exclusive or direct writing agent ultimately is an employee of their carrier. All employees lack some degree of business freedom. This lack of freedom frustrates many exclusive agents and has contributed to the rising numbers who have left their employers to open their own independent, self-directed businesses.
Conclusion
While there are many differences between exclusive agents and independent agents neither system is perfect. There are valid personal and business reasons why one agent would prefer to be a captive as opposed to an independent agent or vice versa.
In prior years, it was often much easier to establish a captive insurance agency than it was to open an independent insurance agency, and particularly one that was created from the ground up. Today, with the assistance of businesses like my company, One Agents Alliance, it's a simple matter to obtain enough insurance company representation, develop the processes, procedures, and systems necessary to run the agency and become a successful independent agency operator. Just as easy as it is to open a captive insurance agency.
This increased ease of opening an independent agency is yet another reason why the move from captive to independent is accelerating. If you'd like to learn more about the income, equity, carrier, customer, and freedom differences that becoming an independent agent may represent for you please reach out to us.
Tony Caldwell
Tony Caldwell is a modern "renaissance man," who is not only immensely successful in the field of insurance, but is also a writer, children's advocate, mentor and even a licensed pilot.

Always keen on helping others make their dreams come true, Tony and his team have helped independent agents grow into more than 250 independent agencies. This has made OAA the number one ranked Strategic Master Agency of SIAA for the last 5 years, and one of Oklahoma's 25 Best Companies to Work for.

Tony loves to share his knowledge, insight and wisdom through his bestselling books as well as in free mediums including podcasts and blogs.

Tony and his family are members of Crossings Community Church, and he is very active in community initiatives: he's chairman of It's My Community Initiative, Inc., a nonprofit working with disadvantaged people in Oklahoma City; and chairman of the Oklahoma Board of Juvenile Affairs., and he has served through many other organizations including the Salvation Army, Last Frontier Council of the Boy Scouts of America, and the Rotary Club.

In his spare time, Tony enjoys time with his family. He's also an active outdoorsman and instrument-rated commercial pilot.