January 11, 2018
The 2018 Success Conference and Celebration: Moonshot
1 min read
Topic:
"We choose to go to the Moon in this decade and do the other things, not because they are easy, but because they are hard; because that goal will serve to organize and measure the best of our energies and skills, because that challenge is one that we are willing to accept, one we are unwilling to postpone, and one we intend to win..."
- John F. Kennedy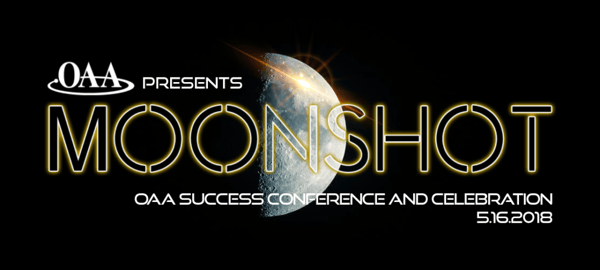 Moonshot thinking changes the world. By setting our minds to seemingly impossible ideas - much like landing on the moon - we push ourselves to our greatest potential, break new ground, and open a wealth of opportunities for ourselves and others. We are proud to say that OAA (our team members, members, insurance company partners, incredible entrepreneur partners, and SIAA) is comprised of individuals dedicated to audacious goals - we hope you all will join us at the 2018 Success Conference and Celebration, as we reach new heights together.
Mark your calendars for May 16th, 2018, to attend one of the largest gatherings of independent agencies in the region! The conference will take place at the Embassey Suites by Hilton in Norman, OK. You will have the opportunity to sit down with representatives from Safeco, Travelers, The Hartford, Mainstreet America, Metlife, OGA, and more. We look forward to seeing you as we celebrate the success of another year, as millions and millions of dollars go to OAA members. Stay tuned for registration details.