November 22, 2016
OAA Wishes You A Happy Thanksgiving!
2 min read
Topic: Blog Company Newsroom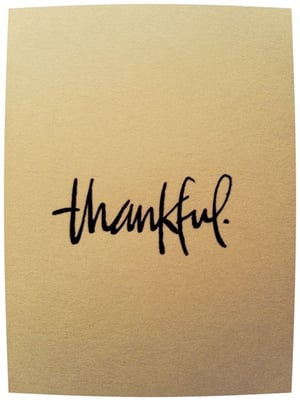 This is Thanksgiving week, and I hope you are now, or soon will be, enjoying time with family and friends! As we enjoy our time away, it is natural to reflect on our blessings and express our gratitude for them.
Looking Back Through the Year with Gratitude
If you will allow me, I'd like to express my own heart felt gratitude from a contrarian point of view for a few really important things I've observed or experienced this year:
I'm grateful for the fact that through an ugly, contentious election our country remains free and capitalistic. As I write this, I have no idea how things will turn out, but I am confident that there will be more opportunity in front of us than ever before in the coming years.
I'm grateful for the changes that are occurring in the insurance and insurance distribution industries. There is no question that there is a lot of pain coming for many due to rapid change in a mature business, but I'm confident that those willing to adapt will be even more prosperous in the future.
I'm grateful for the increasing restrictions that injury and advancing age are forcing on me. These things have made me stop to savor the memories of the past in a newer, more profound way. They have helped me to really think through the coming years and make changes, so that I can enjoy them more fully.
I'm grateful for problem employees and the aggravation and difficulty they've caused. They have helped me to value even more the vast majority who are so wonderful to work with every day.
In a similar way, I'm grateful for problem agents who refuse to see the value we create for them or who are consumed with their own greed or lack of gratitude. Those disappointing relationships increase my gratitude to the overwhelming number of agents who it is a privilege to help toward their dreams.
I'm also grateful to those insurance carriers who have cut commissions or other compensation this year. They are helping me and our members become better, more efficient business people. They are also helping me focus our energies, plans, and attention on selling products for carriers where the rewards are greatest.
There are many other things I am grateful for this Thanksgiving season that are more conventional as well, but I wanted to share this brief list with you as a way of reminding myself that in every problem there is opportunity. When I stop and think about it in this way, I really do find that my blessings are overflowing. I hope yours are, too. Happy Thanksgiving!