February 22, 2017
AccessPlus Adds New Professionals!
1 min read
Topic: SIAA Blog Company Newsroom
OAA has gone through some changes in the last few months, not just new scenery with our recent office move, but we've also added several new faces! Our AccessPlus team is member focused, and we've been working hard while stretched thin these last several weeks. After an exhaustive search for the right fit for our team and yours, we are so excited to introduce our new AccessPlus professionals. Please meet Robbie Hoffman, Sylvia Smith and Caleb Wonn. Be sure to welcome them to the team during your next AccessPlus interaction. They are here to help you and are training hard to do just that!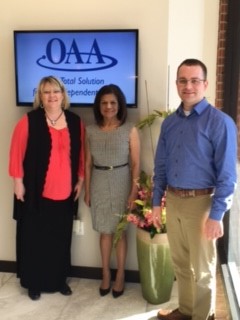 OAA's newest team members are pictured left to right. Below you will see their answers to these 3 questions:
How many years of experience in this industry?
What is something you think you are good at that will lend itself well to helping our members?
What do you enjoy doing outside of work, hobbies, interests, volunteer work etc?
Robbie Hoffman
20 years
Knowledge about the industry; I really care about what I am doing; helping clients to the best of my ability
Spending time with my 3 grandchildren & my family; Reading; Cooking; Being outdoors
Sylvia Smith

20 years plus
I enjoy helping people and it's important to me to exceed expectations, and give the best customer service
I love to run in my spare time and I also have 2 grandchildren that I love spending time with
Caleb Wonn
7 years
I love crunching the details of coverage. I think that knowledge will be beneficial to the members as a way to distinguish themselves
Fishing, camping, boating, water skiing, play piano and guitar, being a husband and dad to three girls fills a lot of my time